Carbon monoxide (CO) is a highly poisonous gas. It is produced by incomplete burning of carbon based fuels including gas, oil, coal or biomass. CO has no taste, smell or colour. Exposure to low levels of CO gas can cause permanent damage to health and in extreme cases, if exposed to CO over a long period, can lead to brain damage and paralysis. Higher exposure is potentially fatal.*
      Personal note from a Collyweston resident: When I was growing up the family business was a small caravan park, just up the road from a very large caravan park. A retired couple, who'd been our customers for years, decided to buy a larger, more modern caravan in the neighbouring park. Tragically, they died in their new mobile home, clearly never having realised there was any problem at all. So, please do take this seriously.
Early symptoms of carbon monoxide poisoning:
The signs can be very similar to many common ailments and may easily confused with flu, viral infections, food poisoning, or simply tiredness or fatigue. Look out for these:
# Headaches                         # Collapse           # Breathlessness
# Stomach pains                  # Nausea             # Drowziness
# Erratic behaviour             # Dizziness         # Visual problems
# Chest pains                        # Tiredness        # Vomiting
# Loss of consciousness
What to do if you suspect a CO escape:
If you suspect fumes are escaping from your combustion appliance into your home, or your carbon monoxide alarm goes off:
Where an appliance is automatically fed with fuel, turn it off. 
Open the doors and windows in your property and ventilate thoroughly.
Leave the property immediately and don't return until your appliance or boiler has extinguished and any CO has dispersed from the household.
If you feel unwell, go to your doctor, call NHS Direct on 111 or if it is urgent phone 999 for an ambulance. Tell them you feel your symptoms may be related to carbon monoxide poisoning.
BEFORE YOU RE-USE THE APPLIANCE, have it inspected and the chimney checked by a HETAS Registered Installer or Approved Chimney Sweep. Do not use the appliance until you are told it's safe to do so. 
Fit an audible CO alarm
Building Regulations Approved Document J now makes it compulsory in England and Wales to fit a CO alarm complying with BS EN 50291 whenever a new o replacement solid fuel appliance is fitted in a dwelling.
The alarm must be permanently install,ed be either mains or battery powered, and should incorporate self-test and audible alert if the battery or detector cell develops a fault.
HETAS recommend that a CO alarm is installed to existing installations by a registered installer, ensuring that the alarm is selected and fitted in accordance with the Building Regulations.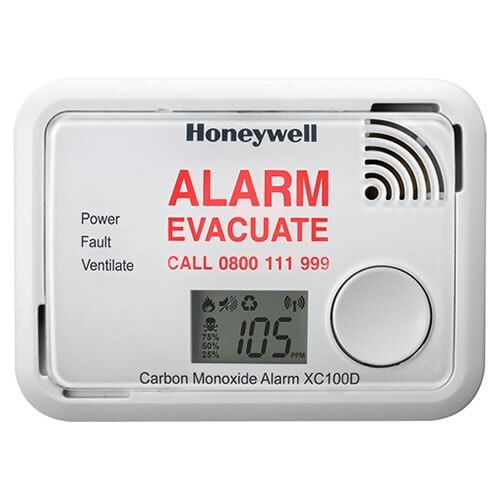 No safety device is infallible and should never be taken as a substitute for correct appliance installation, or for regular and effective chimney sweeping, correct appliance operation and maintenance by a Registered Installer. Always follow the manufacturer's instructions.
Thanks to HETAS for this advice.    December 2017